OVERVIEW

Registration to the MVS program is open to any youth player interested in learning about soccer in a fun, interactive, skill-building environment. All players in the U4-U14 age range are assigned to the Recreational program structure. It is fundamentally designed to provide players with a positive learning environment and prepare them for future stages of development. Teams typically consist of a mixture of both beginners and some experienced players. This program is volunteer-based with parent-coaches providing instruction to players using standard curriculum and other training tools.


SEASON SCHEDULE:

- Fall season: early September thru early November
- Spring season: mid-March thru mid-May
- Training opportunities will be offered at least 1 per week (other than the U4 age)
- Teams will participate in 1 local game per week on average (primarily on Saturday mornings)
- Team rosters and game schedules are generated at the beginning of each season after registration closes


WHAT PLAYERS NEED FOR TRAINING/GAMES:

- Soccer Ball (U4-U8: Size 3, U9-U12: Size 4, U13+: Size 5)
- Water or sports drink (no carbonated drinks)
- Shin guards
- Soccer cleats
- Athletic shorts and soccer socks (black is recommended)
- Academy Jersey for games (included in registration fees)


CLUB FEES:

To play for MVS, each player must complete the online registration and sign the following forms.
- Medical Release Form (generated online)
- Concussion Form (generated online)
- Cardiac Arrest Form (generated online)

To participate in the MVS program, players must use your online registration system to register prior to the beginning of each season and arrange for payment of applicable fees. For your convenience, club fees can be paid online by debit card or credit card. To view the overall club fee structure, CLICK HERE.
To be considered for financial aid, please complete Financial Aid Request Form. Any players requesting financial aid for the Fall and/or Spring season must complete and submit the Financial Aid application by August 1 or January 1, respectively (NO EXCEPTIONS). Please note the club has a limited budget set aside to accommodate these requests, funds will be awarded based on need and eligibility. All applications are reviewed discretely.


POLICIES AND PROCEDURES:
All parents and coaches are expected to follow the MVS Codes of Conduct and will behave in a professional and good sportsmanlike manner at all MVS games, practices, and tournaments.

Anger towards opposing team coaches and players and referees will not be tolerated. All questions concerning playing time and player performance should be directed to the players coach in a proper and non-confrontational manner in a scheduled appointment. MVS maintains the right to suspend or dismiss any individual who do not comply with its policies and procedures.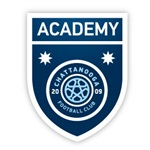 Middle Valley also offers Select soccer options in coordination with the Chattanooga Football Club Academy (CFCA) program. Please go to www.chattanoogasoccer.com for more information.